Precious Blood Roman Catholic Church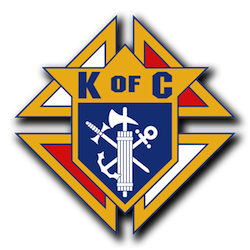 The Knights of Columbus is an order of Catholic gentlemen committed to charity, unity, fraternity, patriotism, respect for life and defense of the priesthood. It is the world's largest Catholic fraternal service organization.
It was founded by Father Michael J. McGivney in New Haven, Connecticut, in 1882. It has developed into a fraternal benefit society dedicated to providing charitable services, promoting Catholic education and Catholic public policy positions, and actively defending Roman Catholicism in various nations.
There are 1,883,598 members in nearly 15,000 councils, with 302 councils on college campuses.
In order to become a member of the order, one must be a "practising Catholic aged 18 or older". Membership consists of four different degrees, each exemplifying a different principle of the Order.
Inquiries may be made by: